In 2014, CPB pitched and won the Hotels.com account with a campaign called "The Obvious Choice". I didn't work on that pitch, so I can't claim credit for coming up with Captain Obvious. But if you saw a piece of work from Hotels.com in those initial years of the campaign, chances are it was something I wrote. 
I did a preposterous amount of stuff during my two years on the brand. My contributions include TV, OLV, OOH, The Captain's Twitter, Captain's Quarters Contest, and the Captain's Costume Giveaway, all of which are covered in this case study (which I also made). 
The following spots were created to run in consecutive commercial pods and online buyouts.
Hotels.com's rewards program is so simple and straightforward, there's almost no fine print. So we turned the legal copy into something people might actually want to read. 
One year. That's how long it took my team and I to grow the Captain's Twitter from zero followers to a community of over 200K engaged fans. In case you're not up on the current state of Twitter brand pages, that's stupid fast. Most importantly, they're all real followers. The Captain never pays for it. At least, not that I know of. It's not like we were roommates or anything. We could never get our leases to line up.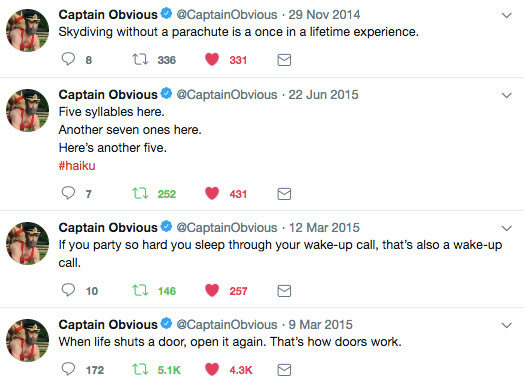 THE MEDAL OF OBVIOUSNESS
As a thank you to his Twitter fans, we awarded the Captains milestone followers with the highest honor a captain of ambiguous origin can bestow on a complete stranger - 
The Medal of Obviousness
. 
In addition to the medal, each honoree also receives a personal letter from the Captain.
OLV


What's that Hotels.com? You need a quick OLV about random bullshit? Give the Captain a hotel room and little-to-no oversight and he'll get you that OLV faster than you can say "where's my OLV?" 
OBVIOUS OBVIOUSISMS RADIO
BLEACHER REPORT TAKEOVER


Still not enough Captain? Jesus, you must really love this campaign. Or Brandon got a restraining order against you and this is now the only way you can feel close to him. Either way, here's a deep
cut for ya.

During the 2015 NBA Playoffs, Hotels.com did a homepage takeover of Bleacher Report. The central feature of the takeover was Playoff Pep Talks, a rich media banner that allowed users to choose one of three locker room speeches from Captain Obvious that they could watch and tweet to their team.
AWARDS
Cannes - Bronze
One Show - Merit
ADC - Merit
Effies - Finalist
Radio Mercury Awards - Finalist
Obie Awards - Gold